In 2019, the Department of Industry, Science, Energy and Resources (DISER), in coordination with the Australian and New Zealand SKA Coordination Committee (ANZSCC), granted $2 million to the University of Western Australia to organize a community based design study project for an Australian SKA Regional Centre. In partnership with CSIRO (providing additional funding of $1.8m) and Curtin University, with in kind support from ICRAR and the Pawsey Centre, the AusSRC design study project was launched in 2019 with the aims of
Developing the requirements and design for an operational AusSRC
Working and coordinating with regional and international SRC partners
Supporting science projects on ASKAP and MWA to refine requirements and designs
Submitting a proposal to the Commonwealth for a full scale AusSRC
The work and progress of the AusSRC design study is outlined on the AusSRC Design Study Program page.
In February 2021, the AusSRC team (headed by the AusSRC Director Dr. Karen Lee-Waddell) submitted a proposal for AusSRC funding as part of the overall DISER Federal budget submission covering Australia's contribution to the SKA project. This proposal was successful and will deliver $63 million to build, operate and maintain an Australian SRC in the 10 year period to 2030/31.
The overall mission of the AusSRC is to deliver the ability to conduct science with current and next generation radio telescopes. This intent can be summarised by three key goals:
Provide the Australian SKA community with the hardware, software, networking, and human resources necessary to access SKA and precursor data products
Enable the production of advanced SKA data products and the development of analysis tools for all SKA users, and
Build and play a leading role in a global SKA Science Archive Facility enabled by an international network of SKA Regional Centres (SRCs).
An Australian SRC will be developed over the next 10 years in a manner consistent with the SRC White Paper and in coordination with the international SRC Network effort. The AusSRC proposal identified resources that would constitute approximately 14% of the global SRC Network capacity needed for the anticipated data flow of SKA1. This is consistent with Australia's 14% share of the SKA1 construction and operations budget. The AusSRC will also provide for resources and personnel to contribute to
Expanding the ability of the Australian SKA community to define forefront and large-scale science programs that are not possible within the nominal 100% SRC Network. These large-scale programs will enhance our ability to lead and innovate in radio astronomy
Enabling engagement with science and research communities outside of the SKA (e.g. multi-wavelength and multi-messenger astronomy, fundamental physics, data-intensive sensor networks, and resource exploration), providing the AusSRC infrastructure to new communities for a broader range of research returns
Translation and impact engagement with industry to co-develop and deliver data and processing intensive innovations enabled by exposure to exascale data sets
Education and outreach, training and community engagement surrounding big data, machine learning, and data driven discovery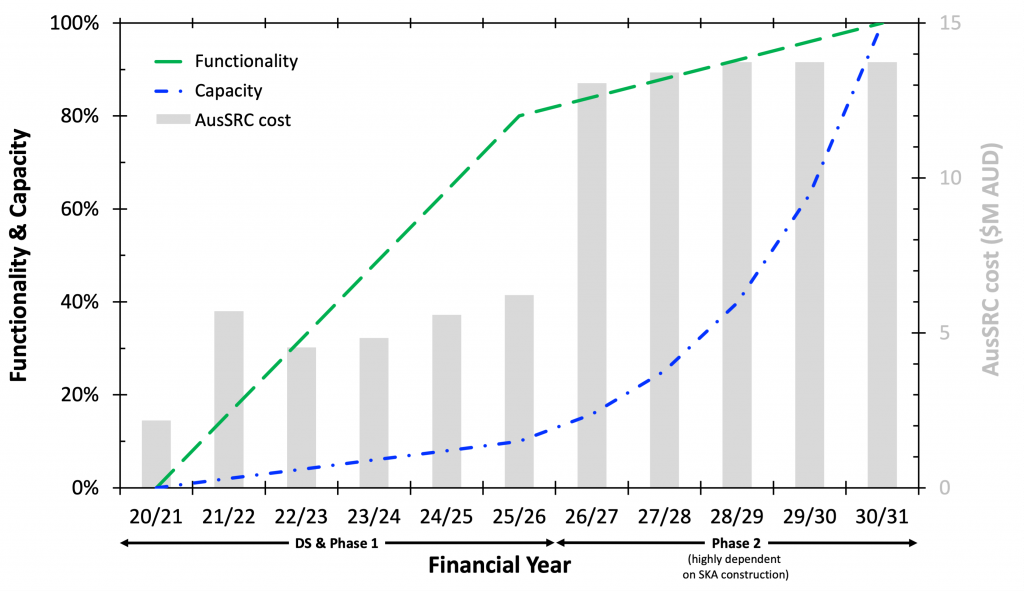 The AusSRC will be built and operated by a partnership of Australian organizations growing from the relationships put in place by the AusSRC design study. It will be a new operational organization that consists of dedicated staff and facilities distributed across a number of sites. The Federal funding agreement, governance and partnership agreements, detailed implementation plan and development timeline (in coordination with international efforts) will be developed over the next 18 months with the aim of having a new AusSRC organization in place by the end of 2022 that will grow to full SKA1 capacity by 2030/31.
For further information on the AusSRC effort, please contact the AusSRC Director Dr Karen Lee-Waddell ([email protected]) or Prof Peter Quinn, Chair of the AusSRC Management Committee ([email protected])